As a part of series of events organized throughout the world to celebrate the 50 years of Leonardo, Alta Tecnología Andina - ATA, the National School of Fine Arts in Lima and Proyecto Amil will pay tribute to Swiss-Peruvian artist Francesco Mariotti to mark 50 years since the presentation of his pioneer work "Cubo luminoso," Projekt Geldmacher-Mariotti 1968, during the fourth documenta in Kassel.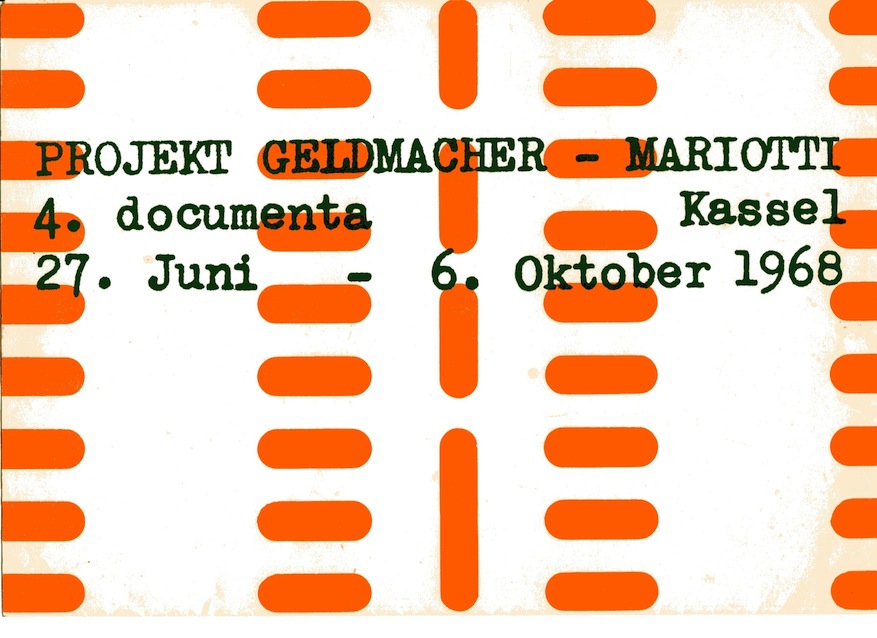 Image: Link zum Projekt "Projekt Geldmacher-Mariotti, Kassel"
Projekt Geldmacher-Mariotti 1968
In 1968, 26-year-old Francesco Mariotti, along with colleague Klaus Geldmacher were selected to present a work for the 4 documenta in Kassel, Germany. The proposal included the deployment of a large cube-shaped metal structure composed of 9,000 bulbs, 100 fluorescent lamps, a monumental fan and several loud-speakers. The installation generated a "photoacoustic environment", creating an immersive experience for the visitors. The installation, located in the Orangerie, along with another remarkable project presented by Christo, was considered by the media at that time as one of the major attractions during the renowned exhibition of contemporary art.
This double 50th anniversary coincides with the centenary of the National School of Fine Arts in Lima where 1976 Mariotti designed and lectured the first course of art and communication that was taught in an art school in Peru (the document is available here).
The celebration in Lima "50 years of Leonardo / 50 years of "Projekt Geldmacher-Mariotti 1968" will also include the delivery of the "LEONARDO Pioneer Award" to Francesco Mariotti, on the occasion of commemorating this year the 50th anniversary of one of his most representative works as well as his artistic endeavors connecting Latin America and Europe in distinctive dialogues related to social processes, natural phenomena and technology.
Program
1. Opening
2. Presentation of the "Projekt Geldmacher-Mariotti 1968" and a biography of Francesco Mariotti by José-Carlos Mariátegui (25 minutes)
3. Panel of specialists: Gustavo Buntinx, Lizet Diaz and Miguel López.
4. Delivery of the LEONARDO Pioneer Award by Prof. Nina Czegledy (Canada) and acknowledgment by Francesco Mariotti and questions by students 
5. Closing remarks 
Program details in Spanish here.
About Alta Tecnologia Andina (ATA)
Alta Tecnologia Andina (ATA) is a non-government, non-profit cultural organization, created with the objective of developing a new culture based on the relations between art, science, technology and society in Peru and Latin America. The foundation for this development involves the production, promotion and support of projects and transdisciplinary research, writing, and exhibitions. ATA's platform also includes a specialized archive and a library, available both online and onsite.
About Leonardo/ISAST
50 Years of Celebrating the Community
Almost half a century ago, kinetic artist and astronautical pioneer Frank Malina set out to solve the needs of a community of artists and scientists working across disciplines by using the "new media" of the time: offset print publishing. As a groundbreaking, innovative venture, Leonardo represented a unique vision: to serve as an international channel of communication among artists, with emphasis on the writings of artists who use science and developing technologies in their work. The result was Leonardo, an academic journal for artists with the peer-review rigor of a scientific journal. For 50 years, Leonardo has been the definitive publication for artist-academics, and the field has gained momentum in recent years.
Leonardo's anniversary celebrations are made possible by our international partners and led by the 50th Anniversary Committee Chair Nina Czegledy.
When
April 11th, 2018 from 11:00 AM to 1:00 PM
Location
Jr. Ancash N° 681, Cercado de Lima
Escuela Nacional Superior Autónoma de Bellas Artes del Perú
LIM
Peru